Title
Unrivaled Resolution.
Unexpected Performance.
Unlimited Possibilities.
Interfaces
Inspired by Automation Professionals
Camera and External Devices
Compatible with Industrial Photoelectric Sensors
Communicate with PLC using Potential-free Switches
Web-Interface, API, Modbus and more...
Compatible with Industrial Tower Lights
Powers and Controls lights up to 100W
Power Supply with Passthrough (24V DC)
Gigabit Ethernet (RTH)
Trigger Input (TRIGGER)
Signal Output (SIGNAL)
Serial Interface (RS-232)
Illumination Control (FLASH)
Isolated Outputs (PLC)
Image Sensors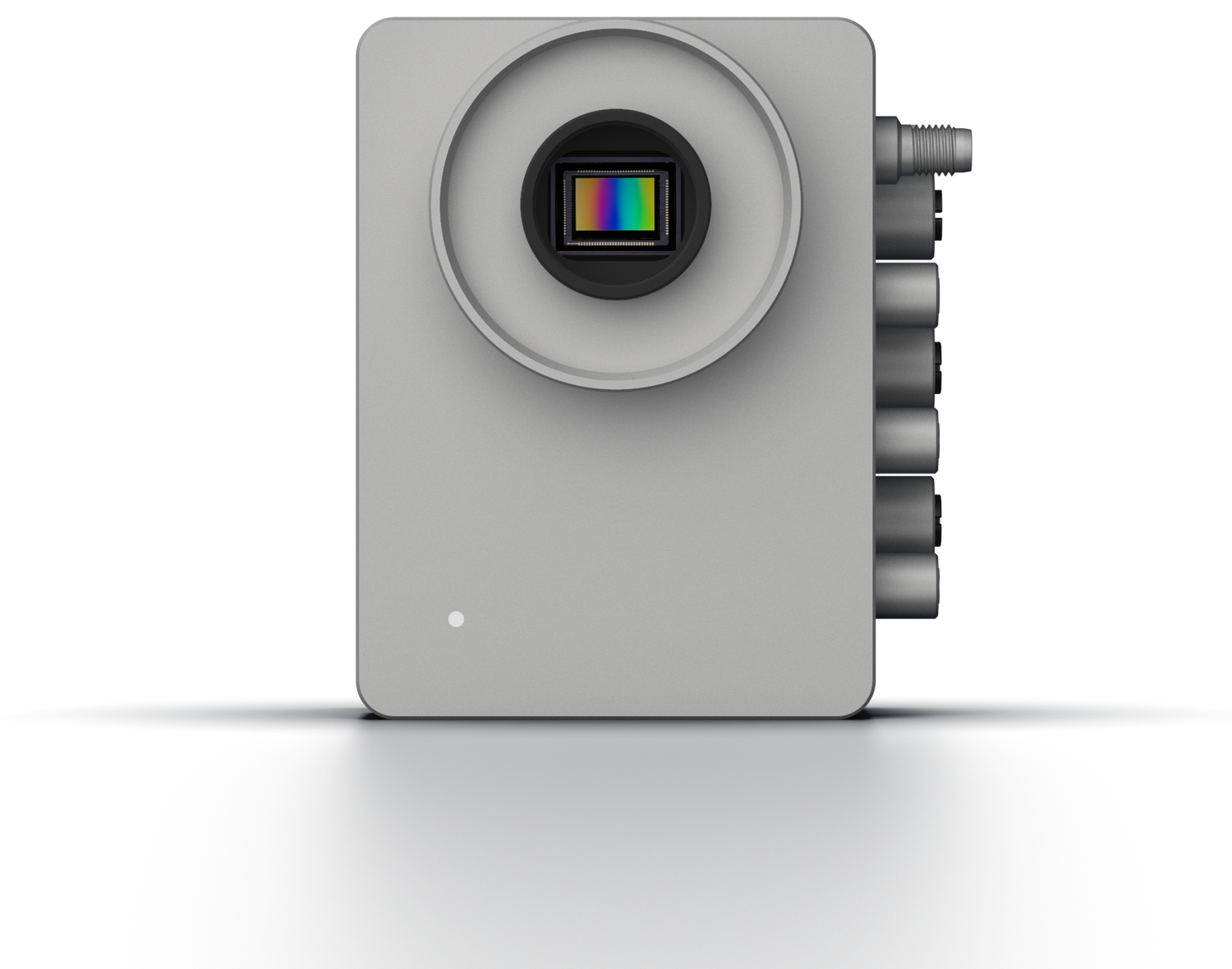 Pick the Image Sensor that fits your needs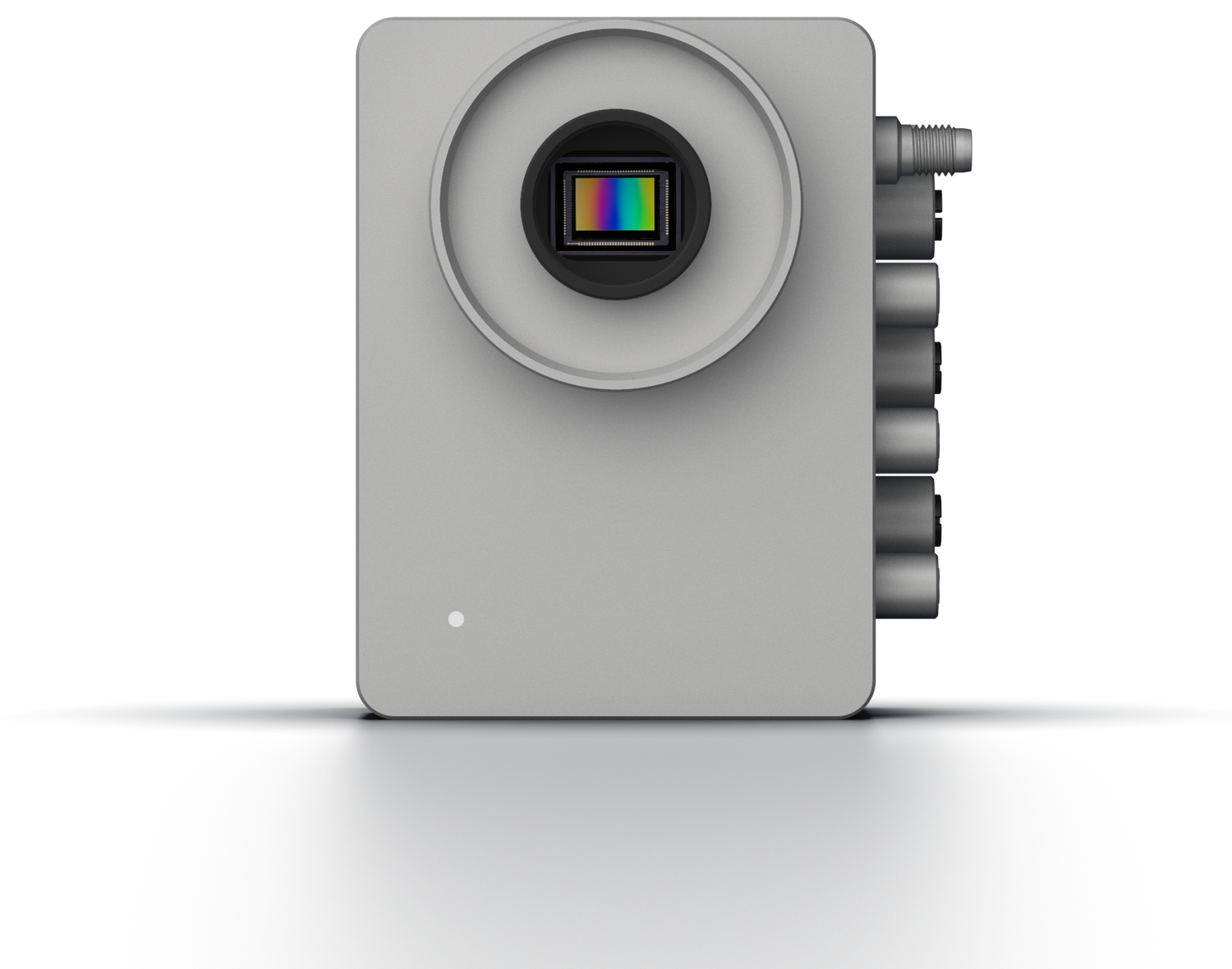 Storage
No Limits for Complex Projects
Get blazing-fast SSD storage at the edge
* Integrated eMMC storage of Jetson module
We only use industrial-grade SSDs with maximum requirements to long-term stability.
By using the PCIe 3.0 interface the integrated SSDs are orders of magnitude faster than eMMC or srorage.
Depending on the selected model our integrated SSDs are 16x to 64x larger than the integrated eMMC of the Jetson module alone.
CTA
Get Started with C7 totay
Find more details about C7 edge camera and learn how your application will benefit from powerful AI at the edge.
Talk to our sales or technical experts and learn how you can get C7 edge camera in you hands.
Image Sensors
C7 features Sony's industry-leading Pregius S™ industrial image sensors with Global Shutter technology. Pregius S adopts a back-illuminated structure to simultaneously realize a smaller image sensor and a faster frame rate, while still maintaining the high imaging performance of Pregius.
Global Shutter
Mono / Bayer
4096 × 3000 (12.3 MP)
11.22 mm × 8.22 mm (1.1″)
2,74µm
Global Shutter
Mono / Bayer
5328 x 3672 (24.6 MP)
14.58 mm x 12,60 mm (1.2″)
2,74µm
Edge Compute
C7 is equipped with NVIDIA® Jetson™ – world's leading compute platform for embedded AI. By default C7 comes with Jetson Nano 4GB module. If you need even more performance, please contact sales to get details on availability of higher-end models.
GPU
NVIDIA Maxwell™ architecture with 128 CUDA® cores, 0.5 TFLOPs (FP16), Max. Frequency: 921 MHz
CPU
Quad-core ARM® Cortex®-A57 MPCore processor, Max. Frequency: 1.43 GHz
Memory
4 GB 64-bit LPDDR4x Unified Memory, Max. Bus Frequency: 1600 MHz
Storage
Jetson SoM: 16 GB eMMC Flash
SSD: 256 GB / 512 GB / 1024 GB PCIe NVMe
Interfaces
Get ready to maximize capabilities in industrial vision solutions. Inspired by experts in logistics and production automation versatile interfaces are integrated in the device to create high functional turnkey-solutions and reducing system complexity at the same time.
Power Supply
24 V DC (± 10%) / 2 x 3 A / M8 (4-pole)
Single power input that supplies both the camera and external devices (power pass-through).
Trigger Input
24 V DC / M8 (4-pole)
Input and power supply for trigger devices. Can be connected to mechanical switches or commercial photoelectric sensors (pin-compatible).
RS-232 Interface
24 V DC / TxD out + TxD In / M8 (8-pole)
Power supply and control of industrial devices, such as industrial code readers.
PLC
3× potential-free switching contacts max. 30 V / 1.5 A / M 8 (6-pole)
potential-free contact for communication with PLC
Networking
10/100/1000 BASE-T Gigabit Ethernet, M12 (8-pole)
Your primary interface to setup, use and maintain C7. Access the web interface and API or use Modbus/TCP to communicate with industrial automation devices.
Signal Output
4× 24 V DC, M12 (5-pole)
Four digital outputs can be used to control industrial signal tower lights.
Flash Output
24 V DC / M12 (4-pole)
Power and control of external illumination (flash or continuous) with up to 100W.
Dimensions
107.8 mm × 95.0 mm × 67.0 mm
Weight
630 g (without lens)